BOER mainly produces and supplies low-elongation monofilament polyester fabric now for worldwide customers, while there are also other types of polyester screen.
Our company imported the most advanced polyester screen production line and technical software in the world, including P7100-S330 projectile looms from Switzerland, intelligent electronic warping machine from German,automatic heat setting machine, water washers etc., and has internal first-class test equipment and a group of technician and workers trained specially by the Switzerland experts.
The polyester screen products are of high quality and precision with a wide range from 25 mesh to 420 mesh. Annual output is up to 1.5 million square meter. Our products are extensively used for screen printing, plate making in electronic,textile,ceramices industy and liquid filtration in aerospace, petrochemical industy in the field of high-tech.
The product is the most advanced technology print screening wire mesh in the 90S around the world. Our company have established business relationship with more than 100 large and medium-sized enterprises. Our products have been exported to southeast Asia, Australia, Taiwan and Europe and America, more than 30 countries and areas.
Polyester Screen Features
Monofilament Polyester Screen (Low-elongation) Features
Low-Elongation Monofilament Polyester Screen is what we are producing now in a wide range of mesh counts, and our products offer significant advantages over the traditional monofilament polyester:
Faster tensioning without damage to the threads
Improved fabric strength
Faster tension stabilization
Higher tension threshold and breaking point
Less tension loss during the stretching process
Polyester screen Application
The polyester screen is widely used for screen printing and filtration.
1.Polyester screen be used as filter on press paper pulp,press fruit juice and other pressure filtration industry like smelter,mine.
It is good filter for air,water and impermeable material under strong acid and alkali environment.Its` reticulate design makes the residue strip and clean easily.
It is mainly used with belt filter press, rubber belt vacuum filter, horizontal belt vacuum filter.
2.Flour bolting cloth
100% polyester,the diameter varies from 31μm to 250μm,with width 115cm to 365cm.
The flour bolting cloth is mostly white,but we can also produce it with any color as your requirement.
3.Polyester screen printing mesh used for circuit board printing
The most popular item used for PCB is 120T-34,which is widely used in East Asia.The PCB printing have more strictly demand than other printing.High tension,more clean and smooth surface are the basic requirement.
4.Polyester screen printing mesh used for ceramic and glass printing.
Most of the polyester screen printing mesh can be used for ceramics and glass printing.There are huge quantity demand about the mesh used in these fields.
5.Polyester screen printing screen used for T-shirt,Garment,textile printing
T-shirt printing is popular in America and Europe market,more than 70% polyester screen used as printing mesh exported to America and Europe for T-shirt printing.The most popular specification is from 20 mesh to 355 mesh.
The Textile printing is most popular in South Asia with 77T and 54T,and 90",128"and 144" are the popular width.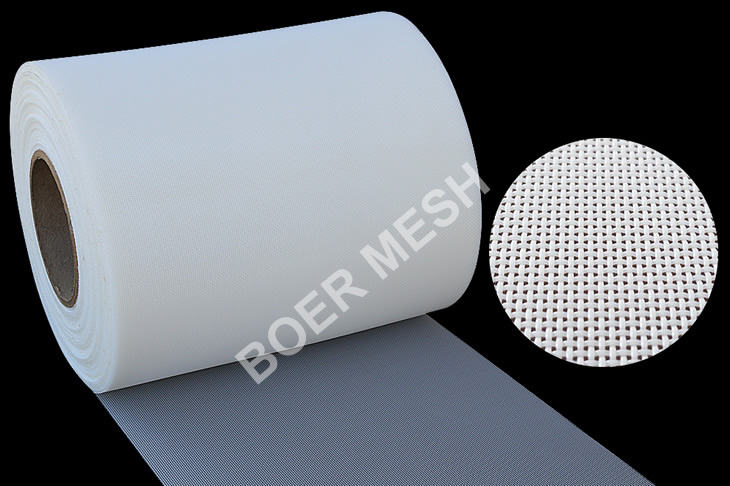 Mesh Count Inch
Yarn diameter
Microns
Mesh Openning
Microns
Open Area %
Thickness Microns
Weight
g/㎡
Material
13
450
1150
60
850
259
PET
15
400
1270
58
760
246
PET
18
350
1080
57
660
220
PET
20
350
900
51
660
251
PET
23
350
760
47
670
282
PET
25
300
700
49
570
231
PET
25
250
750
56
450
160
PET
30
300
530
40
580
277
PET
30
250
580
48
460
192
PET
30
150
680
67
260
69
PET
36
200
515
52
360
143
PET
38
250
420
40
470
240
PET
41
200
425
46
380
164
PET
48
150
375
51
260
110
PET
50
150
350
49
260
115
PET
50
180
420
70
140
33
PET
50
110
400
64
180
51
PET
55
150
325
47
270
121
PET
61
150
266
42
280
138
PET
61
120
340
67
220
88
PET
70
120
240
45
230
103
PET
70
80
280
62
150
46
PET
76
120
215
42
230
111
PET
80
80
230
54
150
52
PET
80
100
210
45
180
82
PET
90
100
180
42
180
92
PET
100
60
194
58
190
95
PET
102
100
150
36
190
103
PET
110
80
150
42
155
71
PET
120
55
160
57
96
36
PET
120
64
150
50
120
48
PET
120
71
140
43
130
59
PET
125
64
140
47
120
50
PET
125
71
135
44
130
62
PET
135
55
135
51
97
40
PET
135
64
125
44
122
54
PET
150
55
115
46
99
45
PET
150
64
105
38
123
61
PET
164
64
90
33
125
66
PET
163
55
100
41
100
48
PET
180
50
91
41
85
41
PET
195
55
75
33
105
58
PET
203
45
80
41
80
41
PET
230
39
70
40
68
34
PET
230
45
65
34
82
46
PET
256
39
60
36
69
38
PET
280
35
56
38
62
34
PET
280
39
52
33
70
42
PET
306
35
48
33
63
37
PET
305
39
44
28
72
46
PET
355
35
36
25
62
43
PET
380
35
32
23
64
46
PET
420
31
25
17
49
34
PET