BOER mainly produces and supplies low-elongation monofilament polyester fabric now for worldwide customers.
Most of today's screen printers use monofilament polyester screen, but the traditional type is rapidly being replaced with "Low-Elongation" polyester screen fabric, which makes the screen printing efficiency has been greatly improved.
Monofilament Polyester Screen is woven from yarn that is extruded from heated polyester into a single strand. The extruded thread is spun to a precise diameter. Conventional monofilament polyester screen fabric will elongate under tension: the higher the tension level, the more the thread can stretch. At excessive tension levels, the thread reaches its "plastic deformation" point, and the screen will no longer hold tension.
Monofilament polyester is still suitable for non-critical printing applications. In recent years, however, it has been eclipsed by a new development in thread technology: Low-Elongation Polyester mesh.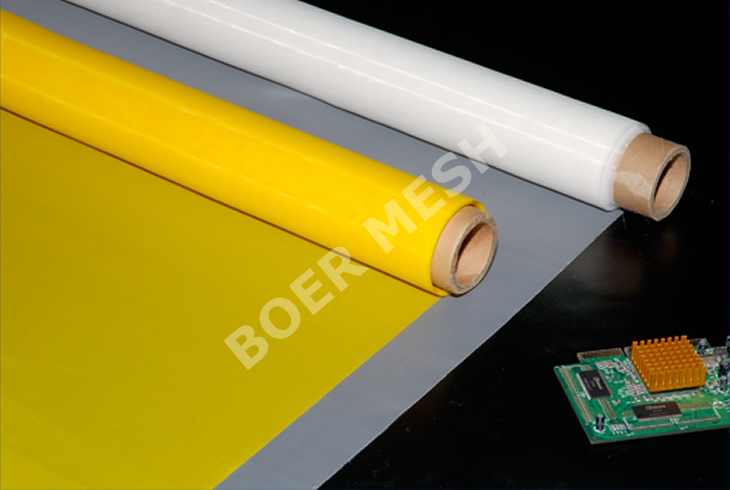 Detail Specification of Polyester Screen Mesh
Specification
Mesh Count
Thread Dia.
Aperture
Openning
Thickness
Theoretica Ink Volume
Tensile Strength
T
mesh/inch
micron
micron
%
micron
C㎡/㎡
n/cm
10-250
25
250
740
53
465
246
60
16-200
40
200
435
47
420
189
48
20-140
50
140
340
46
280
129
52
24-100
60
100
316
58
190
109
48
24-120
60
120
300
51
210
105
42
32-100
80
100
200
43
160
69
42
36-100
90
100
178
41
175
72
42
39-55
100
55
201
62
100
62
30
39-80
100
80
172
46
142
65
42
43-80
110
80
150
41
130
55
35
48-70
120
70
135
41
115
46
32
53-55
135
55
134
50
105
53
34
54-64
137
64
115
39
102
40
30
59-55
150
55
100
40
93
39
32
64-55
160
55
101
42
105
44
30
64-64
160
64
90
32
106
34
35
72-48
180
48
94
46
80
37
32
72-55
180
55
75
29
92
27
32
77-55
195
55
70
25
88
24
29
80-48
200
48
78
30
84
24
29
80-55
200
55
70
25
88
24
29
90-48
230
48
55
25
78
20
33
100-40
250
40
58
32
65
21
29
110-40
280
40
48
27
65
17
30
120-34
300
34
45
30
55
16
30
120-40
300
40
40
20
55
16
29
140-31
350
31
35
26
48
13
27
140-34
350
34
30
20
55
10
30
150-31
380
31
32
23
47
10
28
150-34
380
34
30
20
69
10
30
165-31
420
31
25
17
49
8
28